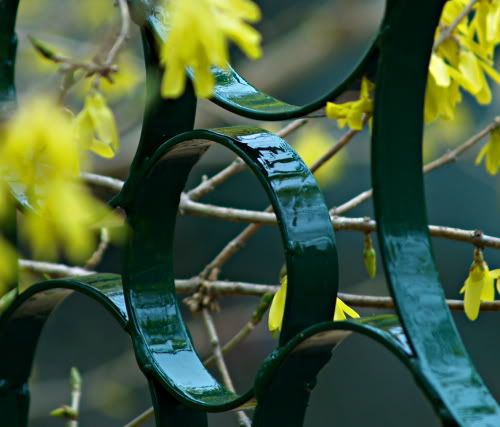 Dad made a trellis for the edge of the deck where I recently removed/rescued a shaded spirea. I helped him one day by cutting the metal strips and then putting them in the rolls to turn them into rings. He did most of the prep work and all of the assembly; welding gear makes me fear for my life. All that electricity and explosive compressed gases and spattering molten metal. How handy is it to have a sheet metal worker for a father! I enjoyed the two afternoons we spent together working on it, even the backache-causing two hours it took us to paint the trellis.
Straight on, the trellis sort of disappears, but from an angle it looks awesome. It doesn't hurt that the forsythia is in bloom right now, and hopefully the clematis that I planted will fill in soon enough (but maybe not - it has had wilt the last two years, and although I dug up a massive root ball, it looks like most of it was dead - only two little crowns on the top of the plant are alive, and it looks like cutworms got to
those
, argh). If it doesn't survive, we can always buy another, and I can also plant morning glory or scarlet runners to fill it in this season.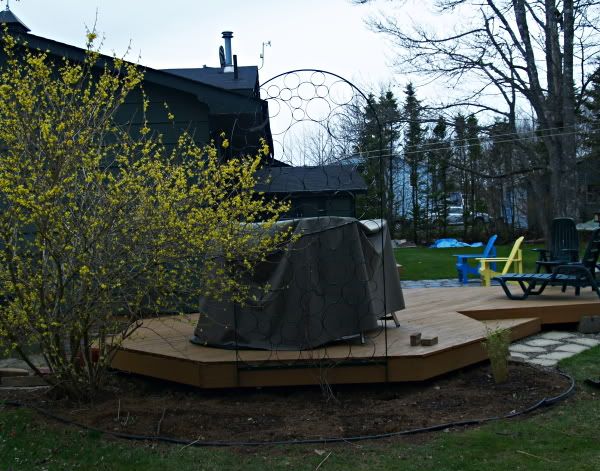 This is the south-east part of the deck, looking towards the dining room and kitchen part of the house. On the left is the forsythia, outgrowing its space (because that's what they do, although I prune out the oldest branches ever year so it stays pretty open). In the center is the trellis -- don't mind the patio furniture cover, it hasn't exactly been a warm spring, barring a nice day here and there -- and then on the right end of the deck, you can barely see our new, tiny, Umbrella Bamboo,
Fargesia murialae
. It clumps! It's semi-evergreen, and it eventually gets at least 6 feet tall! It was only in the ground for a few minutes before the breeze started teasing it and the dry leaves made a soft, papery rustling sound. Love.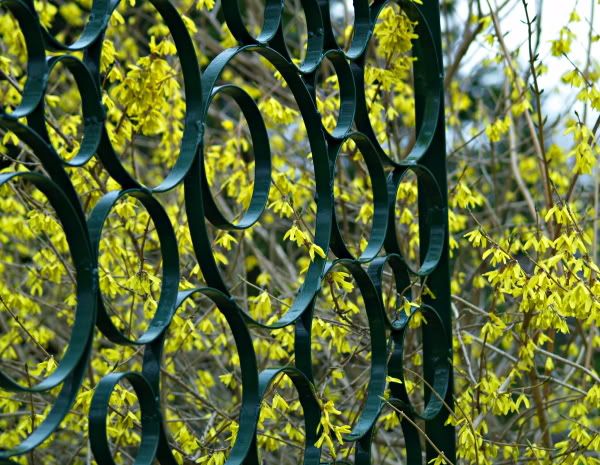 I also divided up the plain-jane perennials that had run rampant in this bed, and put some much smaller clumps back, this time on the outside edge of the bed.
I'm really pleased with this garden project. It's the first of this year's spring yard projects to be completed start to finish, and I think we will get years of enjoyment out of that trellis. It was pretty "sustainable," as most of the trellis is made up of metal scraps that were heading to the recycling depot, and we used rust paint that otherwise would have just dried up and been thrown out. The best part is that we designed and made it ourselves!