On Sunday Dad and I spent a few hours at his work, cutting, bending, and welding strips of metal for a trellis we're working on. We stopped by an empty lot in the industrial park where people (possibly the nearby senior's home?) dump their yard waste. We scored a giant clump of daylilies (I expect Stella d'Oro since they're so common), a handful of tiny spring bulbs that I think are
Scilla siberica
, and a type of rose was abandoned long ago and naturalized, which my father sort of remembers to be white with a prominent yellow center. I'll know for sure once it blooms!
We also found a young beech tree to plant, which we are both rather geekily keen on. I have high hopes that ours is resistant to the beech bark disease, since we found it in Woodside, which is one of the longest-exposed areas to the disease (it was introduced to North America via Halifax in 1891), and none of the beeches in the grove were afflicted (that I could see). The tree's name is either Beatrice or Bernice. I like Beatrice more as a name, but Bernice seems to fit Woodside better.
Then, to cap off a lovely sunny day (although the wind was puffy and cold), on our way home we saw this
Great Egret
hunting for little eels in a small marsh right next to the road: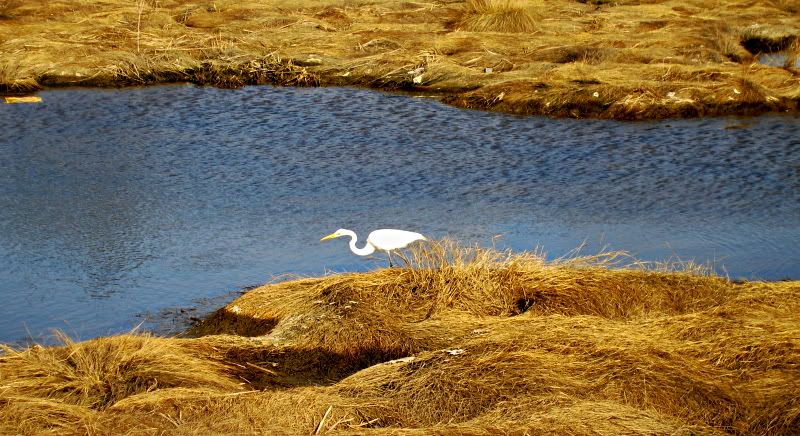 (The egret is over-exposed because the camera couldn't light meter properly for his brightness - and I also over-corrected the saturation when I corrected the exposure as best I could. Normally I wouldn't point this out but I'm feeling confessional tonight
and
too lazy to fix it).
PS: I'm still keeping up with my NS Landscape blog, I try to post once a week. My latest post is on
Devil's Island
.