Mom and I went to the garden centre on Saturday to buy annuals, plants for around the edge of our little pond, and water plants! The water plants most certainly deserve the exclamation points, but I think I'm equally excited about every one of our purchases. You know, plant shopping, or rather, plant-browsing-but-not-buying, is more excruciating than any other type of shopping.
For instance, maybe you're at Winners, and you find a really nice sweater, and you look at the tag, and say, "too much!" and you leave it. Then you think about it, incessantly, and kick yourself for years for not having bought it (October 2001, South Keys Winners, light blue argyle v-neck sweater)? Or perhaps you're like my father, and you see a really nice chainsaw at Home Depot, and you leave the aisle for a second, and come back, and it's gone, and you kick yourself for months?
A good garden centre will have you itching to return for at least 4 plants when you leave it. I think Lakeland Plantworld has some really great selection this year, and I like what they did to their greenhouse space. And I found plenty of plants to miss.
It wasn't all self-denial and restraint, though. We bought a "Dolce Peach Melba" heuchera, which I lovingly espied back when I first saw Mom's white forsythia, an eryngium (Sea Holly), which I became enthralled with on
Jodi DeLong's blog,
and a Monarda 'Jacob Cline' (beebalm) for the front bank where my yarrow and coneflower is growing.
Never fear, I pinched the flowers off the annuals after I took the picture.
Of course, the dee-lite of mine eyes is a tiny little double Spanish poppy that we bought, papaver r. 'Double Tangerine Gem,' that I will have to visit every day once it is planted. I don't think I've ever told blogland how much I love poppies. I do! I can trace my love back to an illustrated version of "The Twelve Swans" by Hans Christian Anderson that Mom gave me in grade four. In a pretty cheesy and typically sexist plot turn (it plays off the madonna/whore archetypes), some poisoned frogs turn into poppies (not roses), because a girl was so pure. Maddening, isn't it? But it was enough to get me hooked. I will definitely share pictures if it blooms this year.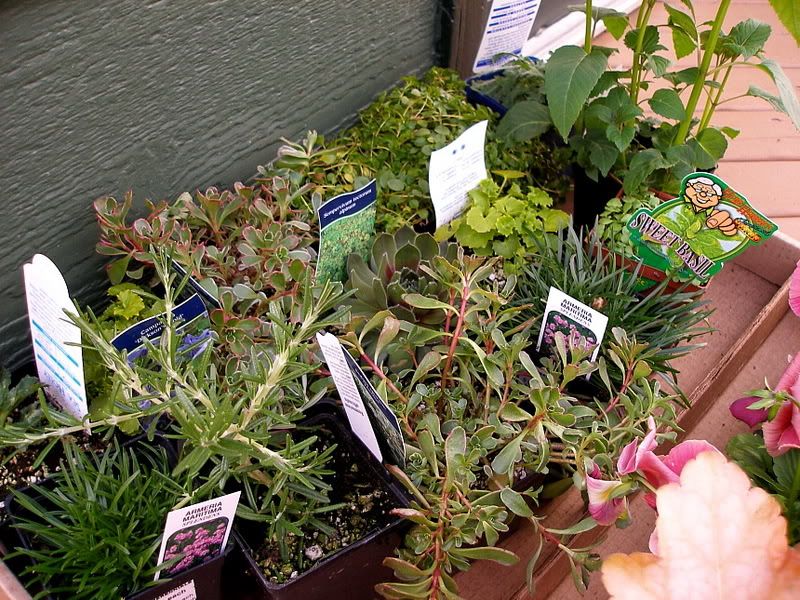 Finally, plants for the little pond! As you can see from the picture below, our pond is still far from finished. It has to be edged with rocks, the groundcovers planted and the landscape fabric taken up, gravel put on the bottom of the pond, my water feature built... but look! A water lily! And a floating water hyacinth and water lettuce! And a small papyrus plant! Wheee! When we put the plants in the pond Saturday night, I kept going outside to have a look. Hopefully the birds will stop dropping grubs and caterpillars in there now.
The smaller photos in this post are dimorphothecas I saw at Lakeland. We didn't buy them. Just another one of those missed chances, but I can't complain when I fared so well.